A buddy and I challanged eachother to see who could pick their doorlock the fastest, we gave this challange a timelimit, a week, we have the same lockmodel on our doors.
Both of us have newer picked a lock or bumped it. After doing some research on the web several options presented itself. Since I dont know anything about locks I need some help on how my lock can be opened.
Obviously none of us want to buy a new lock so the lock cant get destroyed in the attempt.
Here are some pics on the key and the lock so u can figure how it works.
I think it is a 6 pin lock, Assa 4800 but im I no way sure.
What I need to know, what is the quickest and easiest way to open my door within a week without key or destructive force.
Here are some pics to help, the got blurry so I tried to illustrate the ridges on the key.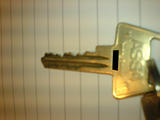 [/URL]